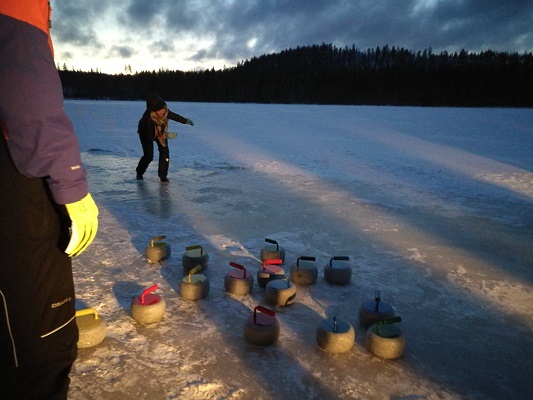 Stone-Curling
A good break for a meeting- or conference day is to relax a bit and play Stone-Curling. This Curling is almost like the real one – curling played e.g. in the Olympics. In this Stone-Curling the competition will be played with grey granite stones on natural ice or where ever there is a suitable icetrack.

In Stone-Curling you are supposed to slide the stone on the ice and get it to stop on the target. Who is nearest has won, but of course like in every game, you try by hitting the opponent's stones and play them off the track or away from the target. We can arrange the Stone-Curling in a place you want if there is ice.
Horse rides
What could be nicer than to ride through countryside by a sleigh or a cart. French beauty La Maya is ready to tow every load faithfully. You may also feel the speed of the ride. You can try the reins by yourself and learn to drive. We can come also out from Toivakka. Horseback riding is not available so far.
Skiing
Let's go skiing with Pistoretki to enjoy winter in nature. In Leivonmäki Natural Park we will ski traditionally 10 or 20 kilometers. In South-Konnevesi Natural Park we will ski on ice and will visit some nature objects. During skitours we will make fire and enjoy hot drinks and sausages. The duration of tours are 2-4 hours. Own skis and pertinent belongings in rucksag are appreciated.
Prices and more information